Librem Mail¶
You can setup your Librem Mail account in PureOS using an email client like Thunderbird.
You can open Thunderbird by, opening the activities window, searching for Thunderbird and pressing the search result:
Your Name: The name you want people to see when they receive your email

Email Address: your_username@librem.one

Password: Your Librem One account password
Fill this information and leave the option "Remember Password" checked so that Thunderbird does not ask you for your password everytime you open it.
Then press "Continue"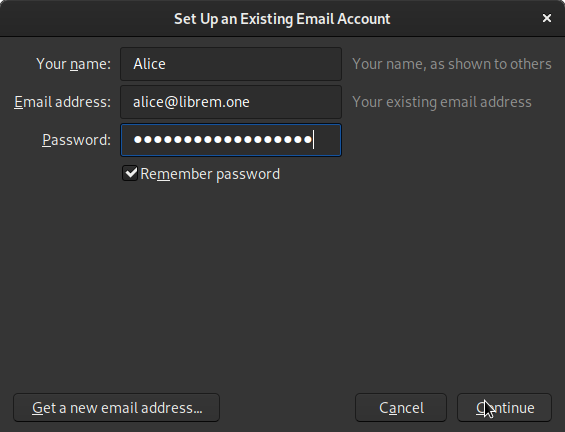 Next you will be asked to:
Fill your the username of your Librem One account

Select if you prefer IMAP or POP3
With IMAP the original emails remain stored in the server. Meaning you can access them from different email clients (Desktop, Phone, Tablet).
With POP3 the emails are downloaded to your Thunderbird and deleted from the server. Which means your emails can only be accessed from this machine. It also frees storage space in your email account in the server. But it also means you cannot properly use several email clients to see your emails (Desktop, Phone, Tablet).
Once you fill your username and select your options press "Done"
And your Librem Mail account is now setup in Thunderbird
Thunderbird will show you first the Enigmail panel which will allow you to setup encryption keys, to be able to use encrypted emails. If you do not want to this at this moment you can just select "Configure enigmail later", press "Next" and do it later anytime, by selecting: menu > addons > Enigmail<br> If you wish to set it up immediately, then select "Start setup now", press "Next" and you can follow this guide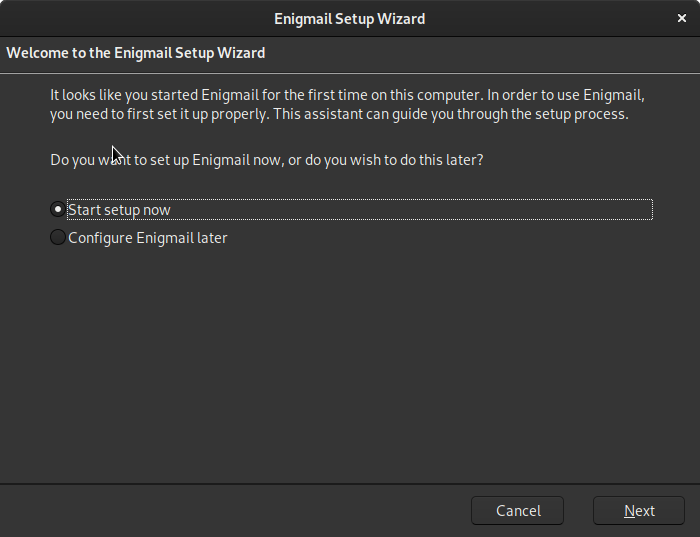 After that you can start using Thunderbird with your Librem Mail account in Thunderbird.